Welcome to Villa Maji

on the beach in Swakopmund, Namibia, Africa
The name 'Maji' was chosen because it means 'water' in Swahili, Africa's most precious resource, and reflects the stunning ocean view that the guesthouse has to offer.
Overlooking the Serengeti Plains 20 years ago, I had a dream of owning a small hotel in Africa. After managing hotels in Kenya, Arusha & Zanzibar, Tanzania and travelling throughout the African continent from Addis Ababa to Zimbabwe, Ghana, Togo & Morocco in between, I have finally fulfilled that dream in Swakopmund, Namibia. The journey took me from the Indian Ocean to the Atlantic Ocean, because I always longed for the sea. That is why I fell in love with Villa Maji's location which offers stunning ocean views and hopefully… a little magic.
Villa Maji's vision is to share our passion for Africa and exotic adventures throughout the continent with our guests.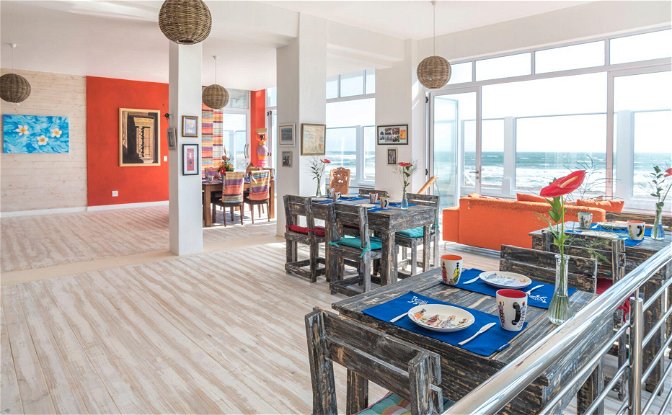 Villa Maji Offers
✓ 10 ensuite guestrooms (9 with ocean & beach views)
✓ Hearty breakfast served with a la carte eggs
(Vegetarian & Vegan dishes can be pre-arranged)
✓ Cocktails in the Moroccan Lounge 3x per week
(additional charge)
✓ WIFI throughout the house
✓ In-house Spa Treatments
✓ Shuttle Transfers can be arranged at an additional fee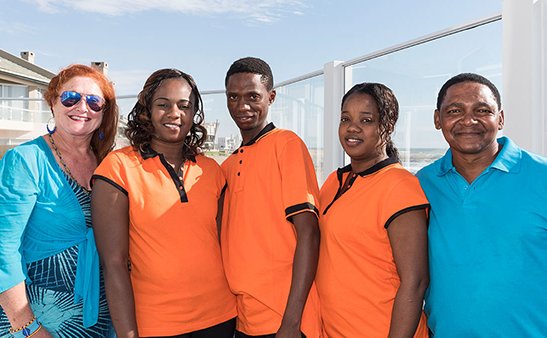 Why we are unique
Villa Maji is the only guesthouse in Swakopmund directly situated on the beach and ocean. Having collected sculptures, paintings, artefacts and photos from all over Africa (as well as Arabic lanterns & Zanzibar doors), the guesthouse is filled with African artwork. Learning 'true hospitality' at Schloss Klessheim Hotel Management School in Austria, guests will be received with a warm welcome and will be treated as guests in my home. Also, the Namibian team prides itself in their friendliness.
Guest Testimonials
Thank you so much for your hospitality. It inspires me to see that there are still people in this world who know the true meaning of hospitality. Villa Maji is absolutely beautiful and I will recommend it to anybody and I will most certainly like to bring my wife some day to enjoy the luxury and tranquility. The detail and backbreaking work that has gone into Villa Maji is... Read this review

Richard Grant

owner at Frametique, Windhoek, Namibia

From entering this unique jewel you experience the warm and welcome feeling from hostess and owner, Christina, Villa Maji is a beautiful place with views onto the ocean in Swakopmund, set on the beach where you can relax either in the comfort of your room with ocean views or enjoy a cocktail in the Moroccan bar upstairs. We want to thank Christina and her team for a lovely time... Read this review

Natasha vd Walt

NB Consult, Otjiwarongo, Namibia

For our vacation, we were looking forward to some peace and relaxation. At Villa Maji, we got that in spades! After breakfast in the sunlit and tastefully decorated dining room we went for a stroll on the beach and had a dip in the ocean. We read our books in the sun on the patio, and at night we enjoyed the sunset with a cocktail from the lounge upstairs.... Read this review

Jantine van der Veen

The Netherlands

I most definitely recommend Villa Maji as the place to go for those who are looking for a friendly but also well-organised atmosphere, a strikingly beautiful setting – both inside and outside, a gorgeously trimmed bedroom with a wonderfully comfortable bed at night, and immediate access to the beach and the constant sound of the ocean.

Mally Mott-Adams

Khomas Hochland, Namibia